 Welcome to Humpties@StMichael's
Humpties@StMichael's is the area's first all-year-round, full working-day Pre-School located in a school premises. As existing providers of Before and After School Care and Holiday Childcare at St Michael's we were delighted to be asked to partner in this exciting new phase in the School's development.
This new venture will be especially attractive to working parents whose older children already attend St Michael's. Humpties@StMichael's has its own dedicated Pre-School room specially equipped for Early Years building on Humpties' 30+ years of experience in Childcare and Early Education.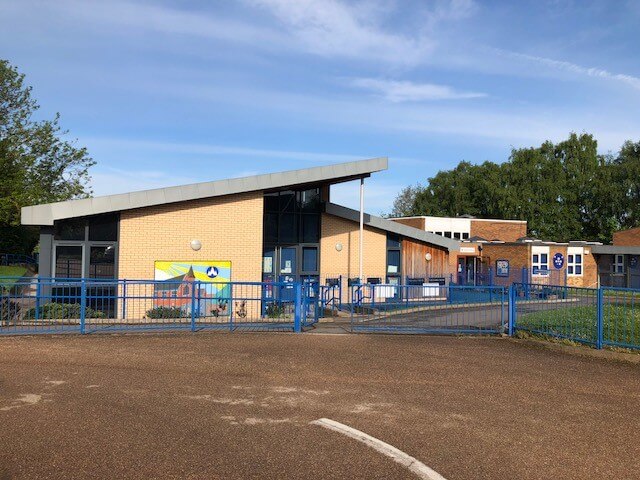 Multi-sensory experiences
All our children are offered a wide range of multi-sensory experiences with an emphasis on holistic learning. All activities are planned so that they are age and stage appropriate, always ensuring that everything is done in a fun way. Activities such as music and movement, art and even French are taught in an engaging and enjoyable manner. Outside play is very important to us, and we are lucky enough to have a Forest School on site and a Qualified Forest School practitioner to enhance this learning opportunity.
Meeting developmental milestones
Following the Early Years Foundation Stage (EYFS) curriculum, we support our children to meet developmental milestones whilst gently and gradually introducing the feel of a school day in readiness for their transition to "big school".
Partnership with parents
Our partnership with parents begins from the first phone call you make enquiring about a place and we hold regular parents' evenings and events during the course of the year for you to share in your child's achievements and developments.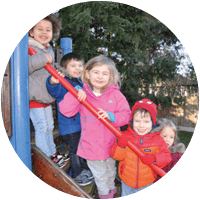 We actively promote independence skills and children are gently introduced to a more formal routine, which builds up gradually during the year to ensure they are ready for their transition to "big school".
Timeline
7.30am – onwards:
Arrival / Self registration for older children / change book bags / free play
7.30 – 9.00am:
Breakfast
8.50am:
Tidy up time
9.00am:
Registration – Discuss letter sounds, colours, shapes, number of the week and theme
9.15 – 11.30am:
Free play, Adult led activities, Free flow
10.00am:
Snack Bar opens
10.45am:
Tidy up time
11.00 – 11.30am:
Group time
11.30 – 11.50am:
Phonics
11.50 – 12.00pm:
Handwashing
12.00pm:
Lunchtime
12.40pm:
Registration / Story / singing while children get ready to go outside (sun cream, wellies, waterproofs, coats)
12.45 – 3pm:
Free play, Adult led activities, Free-flow
2.00pm:
Snack Bar opens
2.45pm:
Tidy up time
3.00 – 3.30pm:
Group time
3.30 – 3.50pm:
Phonics
3.50 – 4.00pm:
Handwashing
4.00pm:
Tea time
4.40pm:
Free choice inside or outside play, weather permitting
Home time
A Stimulating Learning Environment
Forest School
With our qualified Forest School Practitioner we make the most of our time in forest school and provide a wealth of learning opportunities. Our children develop a clear and in-depth knowledge of nature and the world around them. Qualified practitioner-led forest school is proven to help build children's confidence, resilience, emotional well-being, communication and problem solving skills.
French
Our weekly French lessons give children the early foundations of learning a modern foreign language
Music & Movement
Carefully structured, weekly music and movement sessions use fun educational themes e.g. colours, shapes, numbers and animals. The sessions provide the children with another creative opportunity to express themselves and develop self-control and confidence in their movements.
Physical Experiences
As well as the wide range of sports equipment we provide for our children to use everyday, we have a visit from a specialist PE provider on a weekly basis who helps the children learn to jump, balance, listen, follow instructions and to work as a team.
Technology
We keep investing in line with technological advances, but use only tried and tested systems for specific purposes to enhance our children's learning experience. In this we always take a balanced approach… we will not be slaves to technology!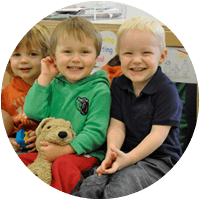 If you would like your child to join us at Humpties@StMichael's then please telephone for an appointment to come and have a look for yourself at what we have to offer.
A booking fee of £40.00 is required with all bookings and should be sent in with completed application and personal detail forms.
All enquiries to Tim Hopkins, Manager, on 01543 416002.
Opening times
FULL DAY (Monday to Friday 8.00am to 6.00pm)
Sessions: Monday to Friday 8.00am to 12.00noon, 1.00pm to 5.00pm
Lunchtime: 12.00noon to 1.00pm
Teatime: 4.00pm to 5.00pm
Times flexible by arrangement
7.30am early start available

HOLIDAYS
Summer: Nursery remains open
Christmas: Nursery closed for one week
Easter: Nursery closed Good Friday and Easter Monday 
Statutory: Nursery closed all statutory holidays
Fees
A cooked tea is optional on a full day or an afternoon session at a cost of £3.0. A cereal or toast breakfast with fresh juice or milk is optional at 8.00 a.m. at a cost of £1.30. Breakfast is inclusive of charge for the 7.30 a.m. start. The early start charge is £5.35 per day.
Any additional hours will be charged at the rate of £10.75 per hour. Drinks and healthy snacks are provided at each session inclusive of charge.
A booking fee of £40.00 is required with all bookings and should be sent in with completed application and personal detail forms.
3 & 4 year old funding
30 Hours Funding for 3&4 year olds
Your child may become eligible for the 30 Hours Funding and this is how we offer this entitlement.
As you may know, eligible parents can claim up to 30 hours of funding towards childcare for 38 weeks of the year. To enable working parents to make the most of their funding we "stretch" the offer over the whole year. Given that we invoice in equal monthly instalments this makes more sense than term-time-only and is more suited to the requirements of most of our parents. This will mean that you will receive just over 22 funded hours per week for 51 weeks of the year instead of 30 hours just in term-time.
These hours can be taken over a minimum of 3 days or 4 or 5 full days. As our minimum recommended booking for Nursery and Pre-School is 2 full days it will also be possible to have just under 15 hours* over 2 days all year round. As a guide it will cost just under £62 per week for a 2 day place or just under £93 per week for a 3 day place all year round. These costs include hot lunches, healthy snacks and all extras over and above the basic funded provision.**
The table below shows the monthly costs to parents for 2, 3, 4 and 5 day-a-week bookings as from September 2021.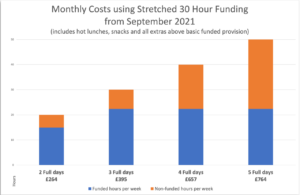 Any bespoke bookings, for instance, to incorporate part days where available, will be quoted separately. Additional hours will be charged at our published additional hours rate of £10.75 per hour. All other additional items are as per our published schedules.
We are able to offer some stand-alone funded places on a limited basis, which changes from time to time and is dependent on how our occupancy and staffing levels fluctuate over time. We would encourage anyone interested in such sessions to enquire at the office.
* Our offer is based on 1,140 funded hours stretched over 51 weeks which means that there are 22.35 hours available each week for 3, 4 and 5 day bookings. The offer is pro-rated for 2 day bookings where we are offering 2/3 x 22.35 = 14.9 hours.
** Extras over and above basic funded provision provided as a bundle with stretched 2, 3, 4 and 5 day bookings.
Forest School (Led by a Level 3 qualified Forest School Practitioner)
Dance
Transitional PE sessions
French
Wipes
Lunch (Nutritionally balanced home cooked meals)
2x snacks per day (Nutritionally balanced)
Creams / Medicines
Sun Protection Cream
Sun hats
Waterproofs
Online / Paper Learning Journals
Parents' evenings
Mothers' Day Event
Fathers' Day Event
Grandparents' Day Event
Drama Sessions
Autumn Ball
Christmas Party (Weekend session)
Graduation
100 % Paediatric 1st aid trained staff (Millie's Mark accredited)
Graduate Led settings
Purpose built playscape (Timotay)
Professional photographer
Weekend family photo sessions
Pre-School information evening
Free trial sessions
Multi agency working (Required by Statutory Framework but not funded by EEF)
Woodwork sessions
Routine 1 to 1 sessions with group leader
Declaration of the value of a free place at Humpty Dumpty Day Nursery as required under our Agreement with Staffordshire County Council.
The DfE through Staffordshire County Council clearly values a free place at our pre-school at £4.10 per hour because that is what they pay us for it. Our bundled offer of hours to make up a full day together with home-cooked lunches, healthy snacks and all other services over and above the basic funded provision represents the true cost of providing our normal full service, judged outstanding by Ofsted.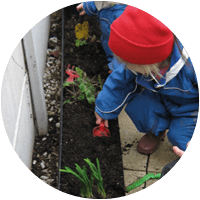 We really do CARE about the dietary requirements of the children at Humpties. Our children's meals are nutritionally balanced, freshly prepared and cooked on the premises. Breakfast, snacks, lunches and teas have been carefully balanced to take into account the Government's recommendations for children's diets. We are also able to cater for children with special dietary requirements.
Meal times are also a great opportunity to develop children's table manners and understanding of etiquette.
Take a look at our tasty four week cycle...
Monday
Tuesday
Wednesday
Thursday
Friday
WEEK 1 LUNCH
Pasta bolognese with cheese
Homemade courgette and lime cake
Chicken and vegetable pie with roast potatoes
Homemade milk jelly
Broccoli and salmon pasta bake, with vegetable
Fruit mousse
Beef and mushroom stroganoff served with rice
Bananas and custard
Fish pie with peas
Fruit smoothie
WEEK 1 TEA
Fish fingers with mashed potato & baked beans
Fruit Mousse
Chicken and bacon pasta
Homemade oatmeal cookies
Filled pitta pockets with corn on the cob and sweet potato wedges
Rock cakes
Cheese potato pie with Baked beans
Semolina pudding
Lamb Keema and Naan Bread
Homemade fruit cake
WEEK 2 LUNCH
Chicken chow mien with egg noodles
Fruit crumble and evaporated milk
Lamb tagine served with pasta and green beans
Lemon, orange and polenta cake
Roast turkey with mashed potatoes and two seasonal veg
Raspberry fruit jelly
Salmon and pea risotto, served with carrot batons
Homemade apple, beetroot and chocolate cake
Chicken Thai green curry and rice
Yoghurt with toasted oats and honey
WEEK 2 TEA
Pea, ham and mushroom pasta bake, served with broccoli
Fruit smoothie
Fish goujons, potatoes with peas
Double choc cookies
Meat balls in a tomato sauce and Pasta
Homemade carrot and apple muffins
Homemade turkey burgers in a bun with baked beans
Stewed fruit and custard
Sausage Pasta
Homemade raspberry swirls
WEEK 3 LUNCH
Chicken curry and rice
Berry smoothie
Cottage pie with vegetables
Homemade chocolate brownies
Steamed fish in parsley sauce, with potatoes and vegetables
Fruit yoghurt
Chicken chasseur, with new potatoes and vegetables
Homemade blueberry muffins
Lasagne and garlic bread
Creamy apricot dessert
WEEK 3 TEA
Toad in the hole with potatoes and peas
Homemade melting moments
Butternut squash macaroni cheese
Peach crumble and custard
Homemade Cornish pasty & baked beans
Fruit salad
Bean and vegetable Enchiladas served with corn on the cob and sweet potato fries
Rhubarb fool
Cheese whirls with baked beans
Jelly
WEEK 4 LUNCH
Turkey chilli & rice
Peaches and cream
Sausage casserole (chicken sausage) with mixed mash (sweet potato & potato)
Chocolate Crispy cake
Lamb hot pot served with Carrots
Homemade coconut & pineapple muffins
Chicken & Mushroom pie with herbed diced potatoes & vegetables
Homemade Apricot Flapjack
Honey roast gammon with parsley sauce, new potatoes & vegetables
Ice cream & Peaches
WEEK 4 TEA
Hot roast beef in a bread roll, with herby diced potatoes
Cheese & crackers
Tuna pasta bake
Homemade carrot cake
Hotdog with spaghetti hoops (Sausage in a hot dog bun)
Rice pudding
Cream of Tomato soup with a cheese sandwich
Blueberry cake
Fajitas corn on the cob and potato/sweet potato wedges
Shortbread biscuits
* This menu could be subject to change. Please note that a variety of `hidden' vegetables are in most of the dishes where possible.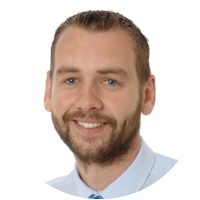 Gareth
Pre-School Development Manager
Humpties@StMichael's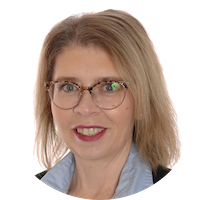 Rachel
Manager
Humpties@StMichael's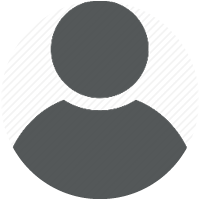 Sam
Pre-School Leader
Humpties@StMichael's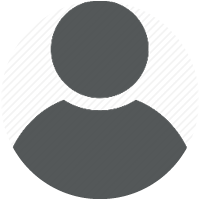 Kirsty W
Early Years Assistant
Humpties@StMichael's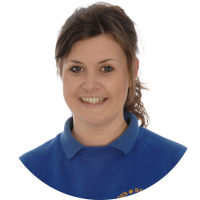 Alyshia
Early Years Practitioner
Humpties@StMichael's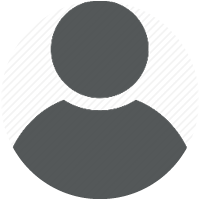 Anastasia
Early Years Assistant
Humpties@StMichael's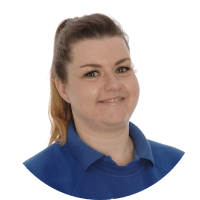 Kirsty S
Early Years Practitioner
Humpties@StMichael's
Humpties@StMichael's
St. Michael's C.E. (C) Primary School
Sturgeons Hill, Lichfield, Staffordshire WS14 9AW
Humpties@StMichael's
St. Michael's C.E. (C) Primary School
Sturgeons Hill
Lichfield
Staffordshire
WS14 9AW
Tel: 01543 416002
Email: lichfield@humpties.co.uk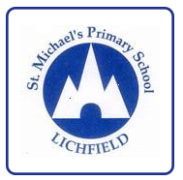 Humpties@StMichael's
St. Michael's C.E. (C) Primary School
Sturgeons Hill, Lichfield, Staffordshire WS14 9AW